Volkswagen Commercial Vehicles unveils its world premiere of the e-Bulli prototype. The model is a 1966 Samba T1 extensively restored and equipped with a last generation electric engine. The new e–Bulli is born from the collaboration – challenge between the engineers and designers of the Volkswagen Commercial Vehicles group and that of Volkswagen eClassics. The result is the transformation of the iconic minibus with more than 50 years of history, into a fully electric traction vehicle and therefore zero emissions.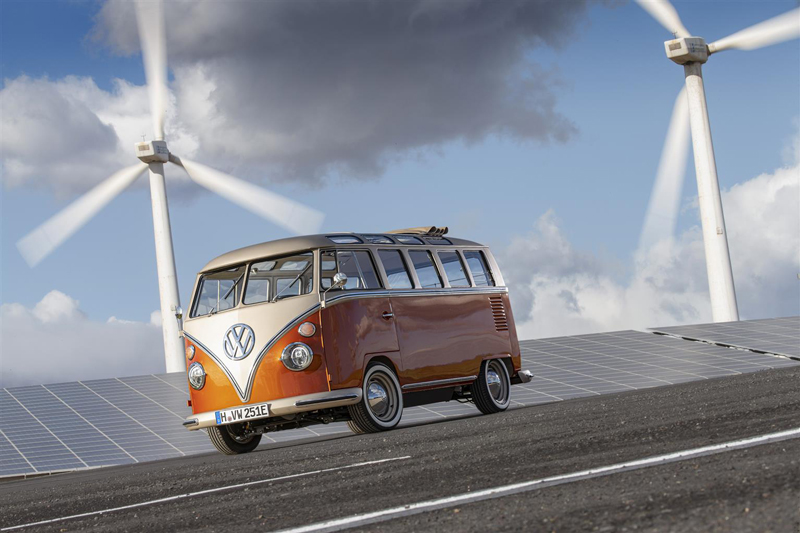 The new e-Bulli, in addition to the timeless retro charm, is a marvel to be rediscovered. Let's start from its beating heart. The old 44 hp (32kw) 4-cylinder Boxer engine gives way to the quiet Volkswagen's electric engine. This gives off a power of 83 hp (61kw) and allows e-Bulli to reach a speed of 130 Km/h. Not bad if you think that the T1 of '66 could reach the maximum 105 km/h.
Transmission is entrusted to a single gear gearbox. Selector lever of the automatic gearbox, mounted inside a console where start/stop button of the electric motor is installed, is placed centrally between driver's seat and passenger seat. By choosing position B of this gearbox, you can change the level of energy recovery during braking.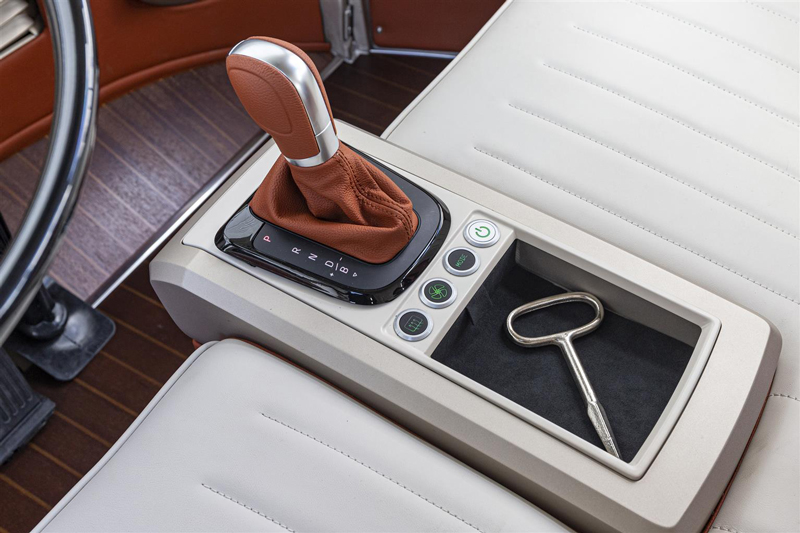 Lithium-ion battery is centrally integrated into the vehicle floor. This solution made it possible to lower the centre of gravity of e-Bulli considerably improving the running characteristics. Charging is carried out through a CCS (Combined Charging System) that allows the use of both AC and DC. At the quick charging columns it is possible to charge up to 80% of battery in just 40 minutes. Over 200 km can be covered with fully charged battery.
Exterior design remains practically unchanged, with the exception of some small details that accentuate the charm. Like the new two-tone energetic Orange metallic – Golden Sand metallic and round LED headlights that integrate daylight.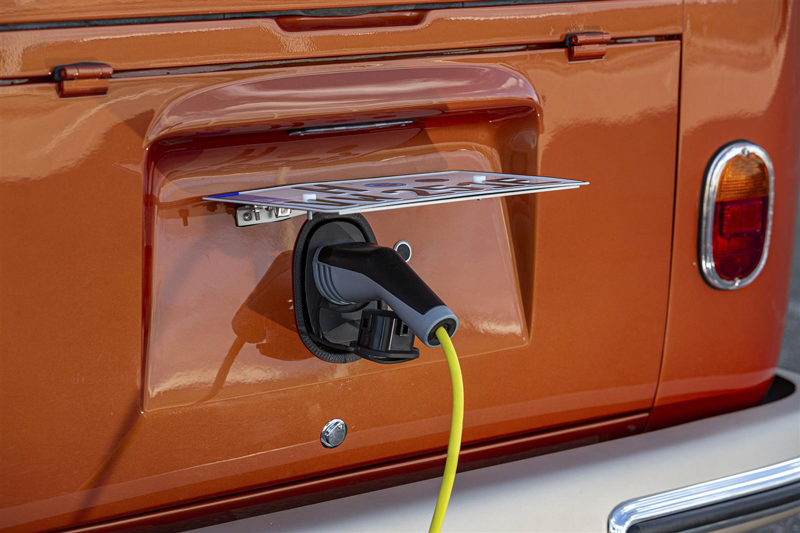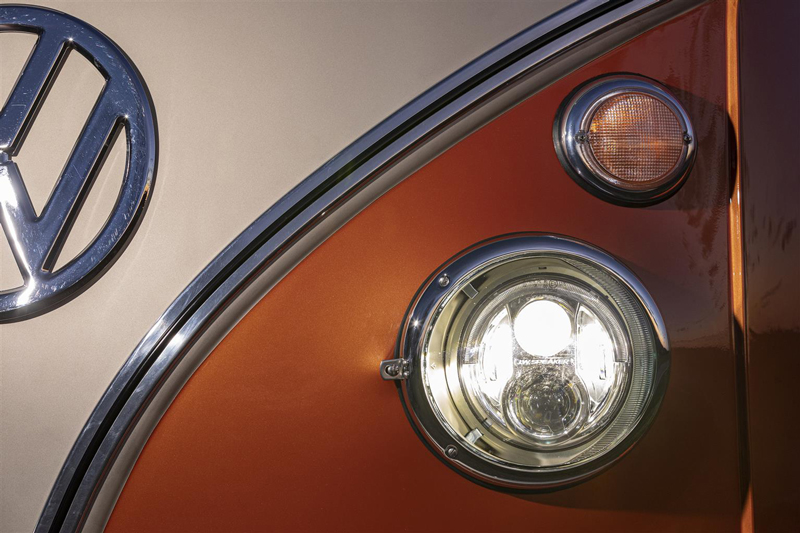 The Volkswagen designers have also surpassed themselves in the modern interpretation of the interior, without moving away from the original ones. The solid wood floor "yacht style" enhances the light and delicate colors of the leather of the seats with bicolour lining Saint Tropez/Saffrano Orange. These small but refined details attribute to the "Samba" that marine character accentuated by the folding panoramic roof. Dashboard has also been carefully modified. The speedometer, inspired by the original, is analogue but with digital display. In addition to providing information on the status of charging, it represents the link between the past and the modern. An integrated tablet in the pavilion displays additional information. " Old Style" also for the stereo system, but equipped with very modern technologies such as DAB, Bluetooth and USB.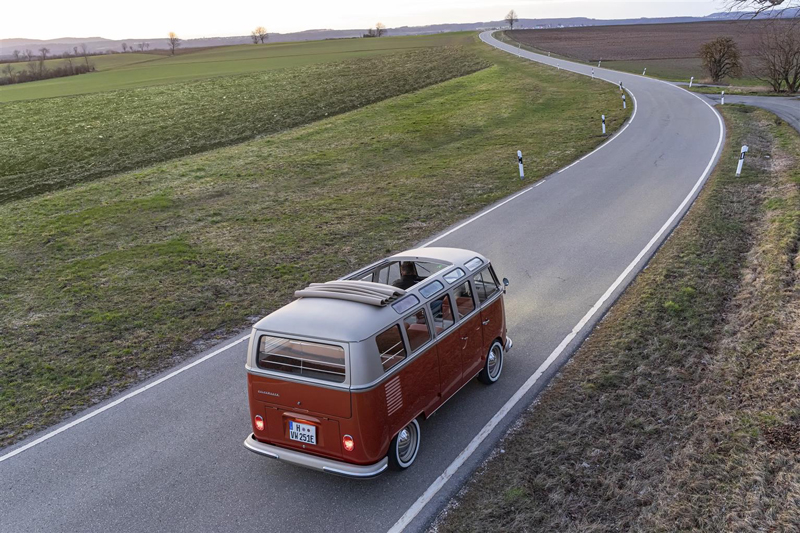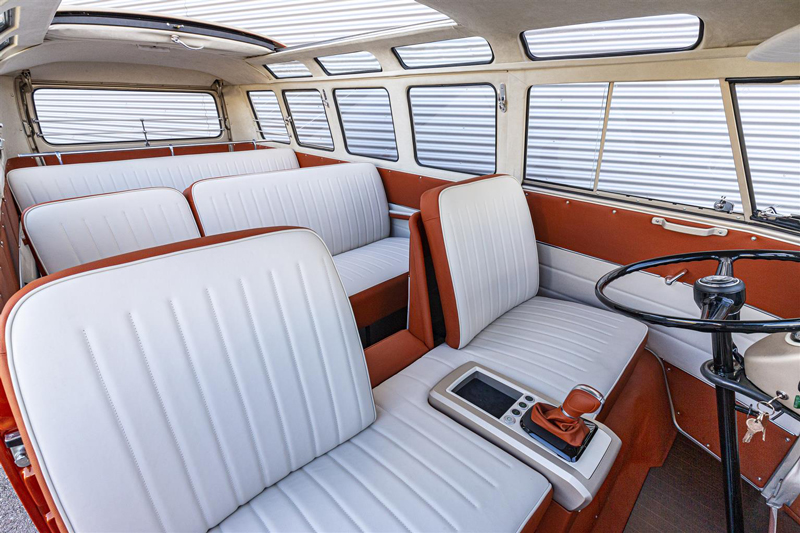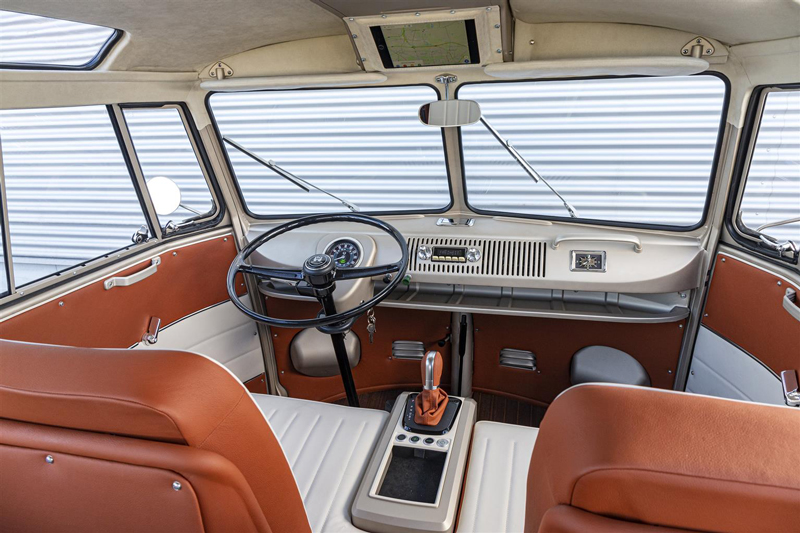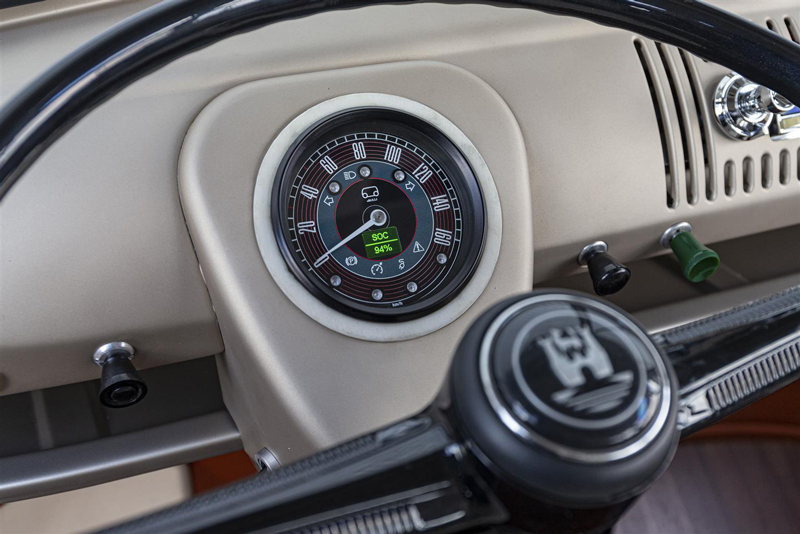 If you are impressed by the new e-Bulli, or better electrified, you can order the conversion of an old T1 to just 64.900€.
Read also La Nuova 500 full electric