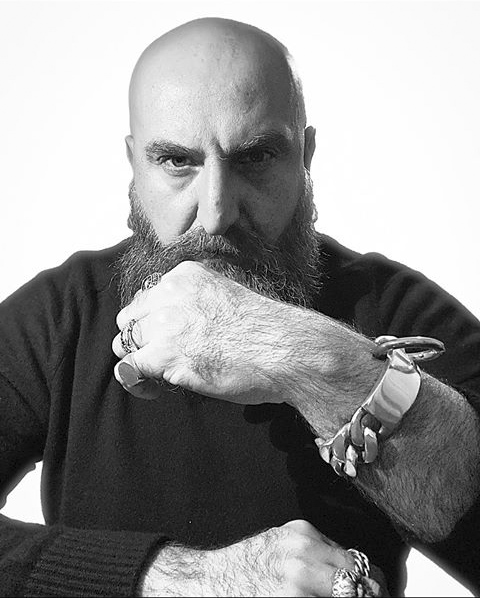 A long experience of more than twenty years in fashion and above all a great love for his work. Here is Massimiliano "Max" Napolitano.
Who was Massimiliano Napolitano Della Rocca before becoming style coordinator at Diesel?
22 years ago, I started my journey in this fantastic world. For 7 years I worked for D&G (Dolce & Gabbana) then I have collaborated with Alexander Mcqueen. So I arrived in Paris as "Head Designer" by Pierre Balmain and Karl Legerferld. I must confess, all wonderful experiences! In 2013 I started a creative collaboration with Kanye West and then with Virgil Abloh for OFF WHITE and Marcelo Burlon.
How you got there?
I know Renzo (Rosso) sice many years. We always said that one day we would work together. So three years ago we started our adventure.
What has enabled the Diesel brand to become so famous over the years?
I have to tell that Diesel has always had in his DNA a "tone of voice" and a "point of view" on the world really unique, out of the ordinary.
Could you tell us a curiosity about Renzo Rosso?
Renzo is a special person. Source of inspiration and great supporter of creativity.
What does denim clothing represent in today's culture?
They are iconic garments that have become our urban uniform over time. They are "democratic" and go beyond the diversity of gender, age and culture. Moreover, the occasions of use in which to wear them are the most different: from work to leisure, from the party to more formal occasions. Denim garments are universal.
What do you like the best in denim?
The versatility of the fabric and the experimentation on treatments. It is a subject in continuous evolution.
Are there many denim garments in your closet? If yes, how do you explain it?
Absolutely! My closet is full of 5PKT, jackets, denim shirts, shorts. In different fit and treatments from the rinse to vintage to bleach. These are specialized brands and fashion brands, some really special.
For years my uniform was denim shirt and leather pants or, total look in denim. I like to wear denim because the final aspect comes to life with you and tells your story and your habits. My favorite piece is a rise shirt bought more than 10 years ago. It has aged with me and now it gives me a unique look. This makes it absolutely rare.
How will denim clothing evolve in the future?
Surely it will be essential to have a sustainable approach and this will influence the creative process and the buying attitude.
What do you think about the fashion industry?
It is a fantastic and at the same time difficult world. Let me tell that very often we forget a very important aspect. That is to be proud of the "know how" of our country, of our creativity and our craftsmanship that have no equal in the world.
Do you think fashion shows still tell stories?
During the 90's and the first decade of 2000 the fashion shows were really spectacular. The designers still told stories and knew how to kidnap you into their world. Nowadays the modalities are different, even if there are still maison able to present their collections like they were telling a dream.
Lately we talk a lot about gender. It is understood as a matter of physiology and cultural superstructure. Should a dress has to be a means to defining the wearer's identity, or should fashion has to be agender?
Our looks and outfits make up a little ' our identity card, real or presumed. Through a dress we communicate who we are or who we would like to be. Fashion is becoming increasingly genderless or gender fluid and this is a real phenomenon.
How much does the gender theme influence creativity?
Personally I like to think of products that have identity and are attractive. Almost all the "must have" products of various brands now on the market seem to be designed and created with this vision above a specific gender.

Do you think creativity is a little threatened by "politically correct?"
In the past collections there have been several episodes that have turned on a big lighthouse about this issue. For all of us designers, there are always, cultural and costume references that serve as a source of inspiration. However, I think we should always create in a "correct" way
What is the most important teaching you learned by doing this work?
Sharing and cohesion with your own team. The ability to evolve adapting to the seasons of life without forgetting your own baggage of experience.
What's the positive thing, or what you have rediscovered during this quarantine?
Understanding how lucky we are to live our life in freedom. The strength of true feelings that do not know distances or quarantine. And yet the beauty of our country and the responsibility to react to such an absurd situation.
Which passion excites you the most?
Travel! It always allows you to discover new things, enrich the experience and nurture creativity.
Before I finish I would like to ask you a thought about the blue (declared color of the year).
I think there are two types of blue: indigo blue, wonderfully related to my work and navy blue of the classic peacoats and regimental coats.
You may also read Pugnale Eyewear by Emanuele Pugnale