| Photo Gpiazzophotography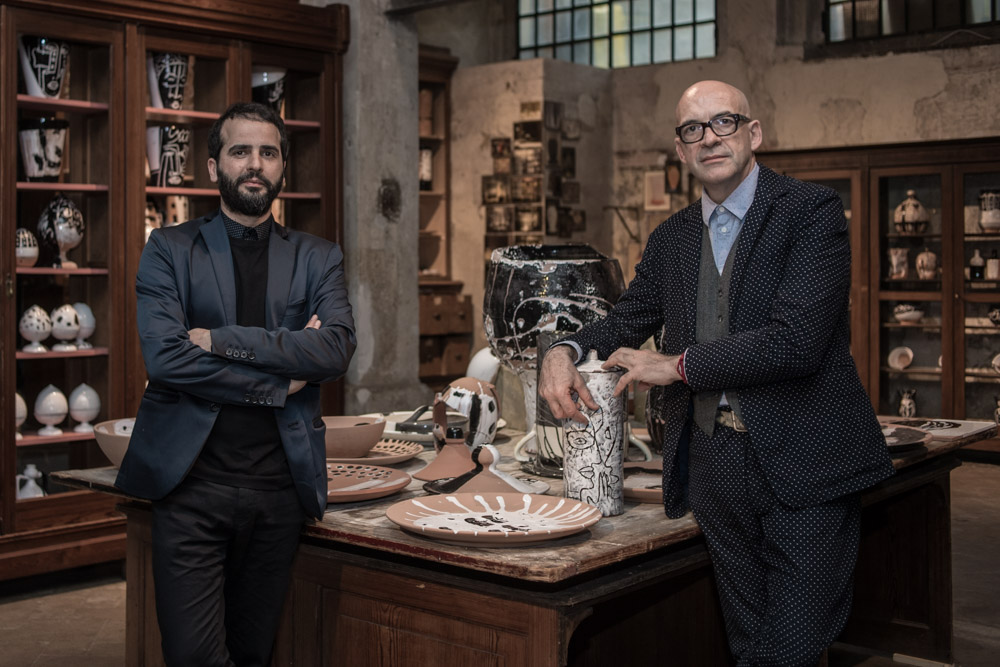 Antonio Marras, designer. Vincenzo D'Alba, architect and designer of Kiasmo. A meeting born from a confrontation of drawings on a sheet of paper which gave life to new creations that are expressed in the language of ceramics and handcrafting. A "magical uniqueness" that finds continuous reference to their origins that intertwine and complement each other.
– How did you meet and when?
AM: Three years ago, at the Salone del Mobile in Milan, Vincenzo (D'alba) and Francesco (Maggiore) asked me to participate in a so-called duet/duel": Vincenzo, who was the host, would challenge me on a blank piece of paper that we would have to fill with writings and drawings, thus creating a contact and dialogue between our personalities and our backgrounds. An original way to get to know each other.
VDA: These duets/duels were born from the collaboration with Francesco Maggiore and Francesco Moschini. Real chess games on drawing, during which I "challenged" several artists or architects: Alvaro Siza, Luigi Ontani, Dario Fo. So three years ago, during the Salone del Mobile, I came to visit the space "Nonostante Marras" and it struck me a lot, so I spoke with Francesco (Major) and decided to propose to Antonio (Marras) this "four-hands" design. It is the drawing, the turning point of our meeting.
– How would you define your work?
AM: I think I'm the least qualified person to define my work, but I'd say I feel like an artisan, working with my hands. I do not have a real definition of what I do; I only have one need: to make things. Whether it's carpets or having literally your hands in the clay while working the ceramic, it doesn't matter. I like to make.
VDA: It is impossible to define my work uniquely, it is rather a set of things that have to do with so many disciplines such as art, architecture, design.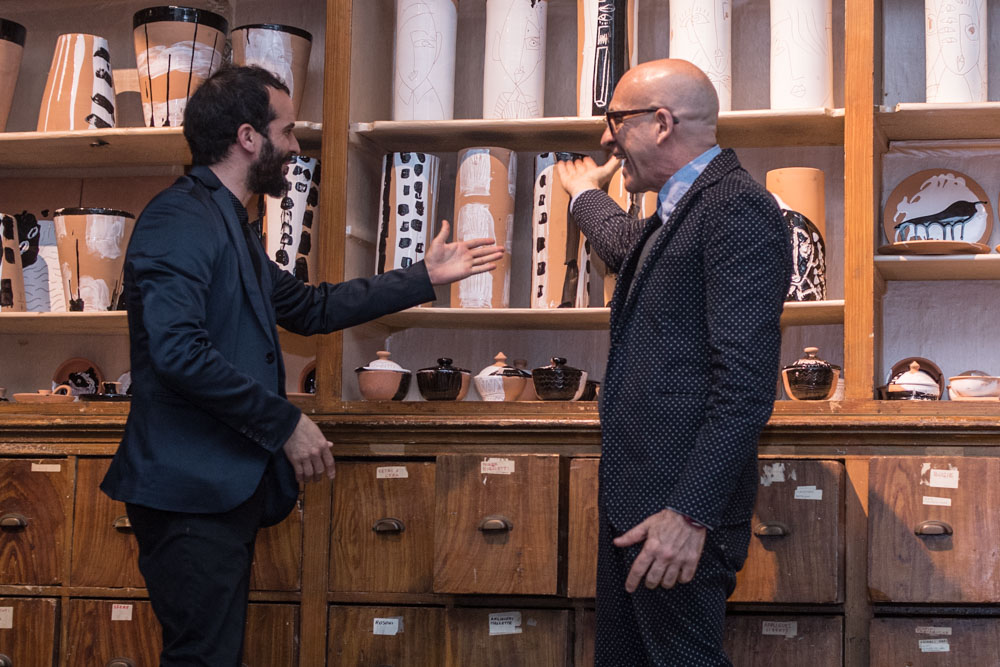 – How does the transition from design to implementation take place?
AM: (Laughter) The extraordinary thing is that with Vincenzo the designing process is a journey that usually does not exist, that you skip altogether. Wherever we are, we do things. For example, working ceramics was an activity I would have always liked to approach, but I was intimidated by. So, when we arrived at the factory of the Colì brothers (a company that produces terracotta pots) to work on our terracotta pieces (serial ceramics by Antonio Marras & Kiasmo c), Vincenzo had much more confidence than me with the matter, he was more spontaneous. And inspired by him, I felt more comfortable launching myself into this new experience and it was like therapy. I was, and still am, completely ignorant of the subject matter and this prompted me to move with ease and a little bit of healthy unconsciousness in a daily experiment.
VDA: There is no design, but this does not mean that concepts are born without ideas. If anything, they were born by chance, but a noble one, where if there had been an attempt to organize them, they would have lost the authenticity of the collection. A designing process that is poor from the practical point of view, but rich from the mental one, therefore deeper and eternal.
AM: We are driven by the need to rearrange a chaos which, in reality, does not exist. There is only the will to make shapes with practice, minute by minute and, thus, to develop the same objects. For example, my approach to clay and glazes changed as soon as the first day: an enrichment and growth that also changes the way you see the object itself.
– Do you have a repertoire of images you work on?
AM: The regions from which we come from – Sardinia in my case, Puglia for Vincenzo – have great affinities. Sardinia has always been a coveted place, as well as a strategic one for the Mediterranean: an island that has been courted, besieged, raped and owned by all. From the Phoenicians to the Romans, then passing through the French and the Spanish: they all landed on the island leaving traces. It is therefore natural and spontaneous to draw from such a rich and diversified heritage, almost without research. Roots so strong that they trigger and bring to the surface teachings that are already settled, that emerge unconsciously and transfer into what we do.
VDA: Yes, I agree with Antonio. I would add that the iconographic references are dictated by the culture of a medieval or Byzantine type and even by the Greek and Roman culture. But beyond ancient history, the images on which we work are the result of a continuous relationship also with contemporary history. Our mission? To reinterpret the forms of the past with a new vision of graphics, craftsmanship or architecture.
– Is creativity an innate gift or can one learn?
AM: I don't really know what creativity is. Personally I move with my instinct, with unconsciousness and ease, without fear and without any hesitation. Always ready for new challenges and comparisons with materials and means that I don't know.
VDA: The fact that we do not want to believe in creativity or not want to define it, I think is due to our production philosophy which we share. Otherwise answering this question with a definition would be misleading and contradictory to everything we have done so far.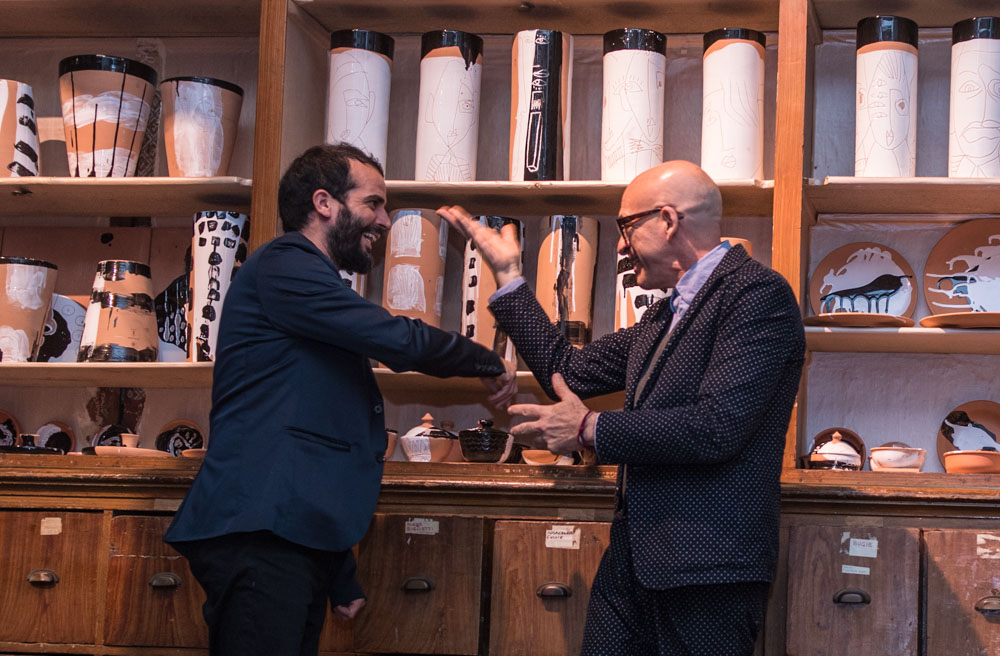 – How has your way of referring to the past, compared to that of the designers who preceded you, changed?
AM: Everyone expresses oneself in the way they deem most appropriate. The luck of having this space (Nonostantemarras) available, a space that can be maneuvered and stirred whenever we want, has allowed us to create, with different and contrasting objects, that magic word that is called "harmony". This is what we like most: to produce an original language by mixing the most disparate elements. And even what does not come well deserves our interest: it is precisely this "badly made" that fascinates and intrigues us.
VDA: All this is also the result of a way of operating based on the frenzy and desire to do. Side effects that are part of the final project and that, many times, rather than disqualifying the object, can become strengths.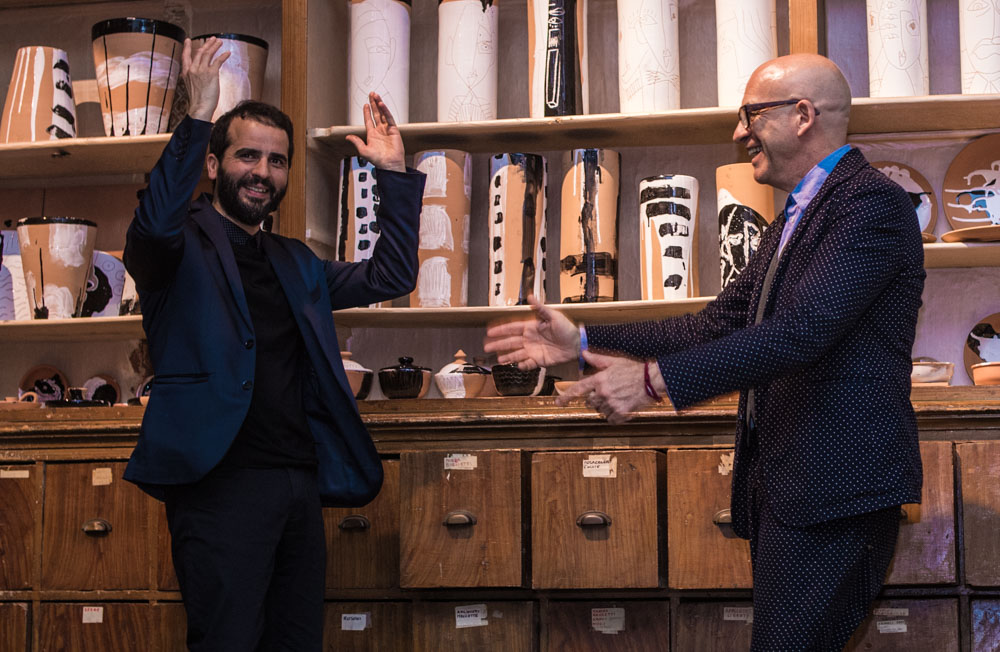 – Who of you two has the freest fantasy?
AM: (Laughter) I don't want to be wrong, but our strength is due to the fact that we have no limits or barriers and we move with absolute freedom in dealing with things, living situations in the most natural way possible.
VDA: Everything we do is aimed at being a workpiece or a product, therefore talking of fantasy would be to randomly chain a practical fantasy. I also do not agree with talking about absolute freedom because, as Paul Valéry said, "great freedom is born from great rules". So there are rules, but they are not, and should not be, visible.
– What were you good at as children?
VDA: I was good at doing nothing until I was 15/16, then I started drawing almost as a joke, until it became indispensable and then I never stopped. But I don't remember being distinguished in anything other than idleness, (laughter) which seems quite virtuous.
AM: I was good in poetry. Often poems are printed in the centre of the page and the white margin around it gave me a sense of peace and tranqulility. Also the poems have a rhythm of emptiness and fullness, and this rhythm I was able to store it. It was the only time I felt good and could detach myself from reality.
– Is it better in life to always remain as little children?
AM: Surely my approach to the things I do not know is always of amazement and wonder, like that of a child in front of a new game.
VDA: I think it's hard to maintain a part of the baby. Surely it can be recreated when you cultivate a great culture and you can rediscover that lost grace that you had as a child. Obviously, a culture intended at a higher level.
– Apart from duels/duets, have you ever thought of challenging yourself to something as different as a foosball game?
AM: It's actually never happened because our activities are so intense that they don't allow it.
VDA: There can be no such a daily activity because we work together or draw.
AM: Also because between us there is not even this confidence (laughter). We do not have a knowledge of each other's worlds outside of our working moments. Maybe this is our strength.
– How important is time to you?
AM: Time for me today is the greatest luxury. I really have to frame the minutes to be able to do everything I want.
VDA: Time is especially important when, as in our case, we are dealing with different activities. But, at the same time, it is spontaneous to spend it and to lose it: everything that is done is linked to the idea that time is spent in an almost unexpected way.
– The five most important books of your life.
AM: The eighth-grade anthology, the abecedarium to teach Italian to Roma children (which then led to a collection for a fashion show), Hermann Hesse, the Spoon River anthology and the first book that Patrizia (Marras) wrote entitled '"mariti".
VDA: For me the Pisani cantos by Ezra Pound and I would like not to add anything else because then they would not only be 5 (laughter).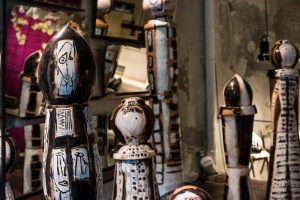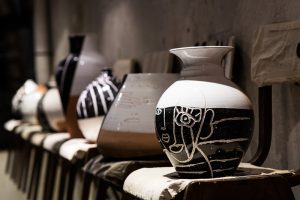 Read also Adam's life, painting and catwalks