After winning the title Champion of Italy 2020, Lorenzo Sonego, number 46 of world tennis and number 3 in Italy, tells how his passion for tennis was born.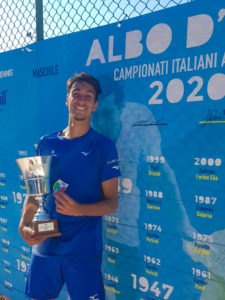 – Do you remember your first approach to tennis?
I started playing soccer. that's sound a little bit strange but it's true. I discovered tennis, only when I was 11 years old when with my father, who is an enthusiast, we went to play a match. Since then I have continued for two more years to practice both football and tennis. Then my father took me to what is still my tennis coach (Gipo Arbino). So I finally gave up football and dedicated myself completely to tennis.
– What was your first important match?
Rome, during the Internationals.
– Do you have a particular memory or anecdote to tell us about it?
I remember I was injured. Nevertheless I played a crazy game and I won it. This allowed me to enter, three days later, on the board.
– Fate is known to make strange evolutions, especially in tennis. Did you ever happen to take something away from you and then give it back?
Let's say yes. Especially at the beginning of my career I lost many games, some with match points when I had won them yet. Then with the experience gained, going on with the training and work, I learned to close in my favor these matches.
– What's the tournament you dream of participating in?
My favorite tournaments are Rome and Wimbledon. But now what I really care about is the ATP Finals, which will also take place in Turin, my hometown.
– What makes you happier and what scares you more?
That's makes me happy is to play a nice tennis game, usually we say a "fight game". And what scares me the most is that I'm injured.
– Looking back, what would you change in your life? And in your tennis player life?
Mah, I would not change anything, I leave everything like it is. Also because in my life I changed very little things.
– Who's the tennis player you value the most?
Roger Federer. Because he is a humble person and also for his class both on and off the field. I had a chance to meet him and play against him just last year.
– What do you think about tennis player Coco Gauff said about George Floyd's death? (Coco argues for the need to "speak and educate non-black friends so as to explain how they can help the movement". Then he refers to a phrase of M.L.King "the silence of good people is worse than the brutality of the oppressor. Those who remain silent choose to support the 'oppressor".)
I'm agree about Coco said. Unfortunately, today racism is a big and serious problem all over the world. It basically comes from a lack of education to diversity . The protests following the Floyd affair were right, even if it is wrong when they result in violent behaviour.
– Have you ever seen racist behavior in tennis?
No, since I'm a tennis player I never had seen such behaviour. Both from the players and the public.
– Do you have any friends among your colleagues?
I am a very good friend of Berrettini. But I can tell that with all the Italian' tennis players we are a great family. We also often see each other out of practice to spend time together.
– How would you like to be remembered one day by tennis?
I'd like to be remembered for who I am, a good person both on and off this field.
– How did you experience the quarantine ?
I spent the quarantine working from home, physically training for what I could do. I've also been looking for new hobbies, like learning to cook, which I can never do because I'm always out of the house. And then to dance that is another one of my great passions.
– Do you prefer to relax by the sea or in the mountains?
I prefer the sea
– Do you like more 2 or 4 wheels?
I'd like 4 wheels. My favorite brand is Lamborghini.
You may also read Airton Senna a champion of yesteryear