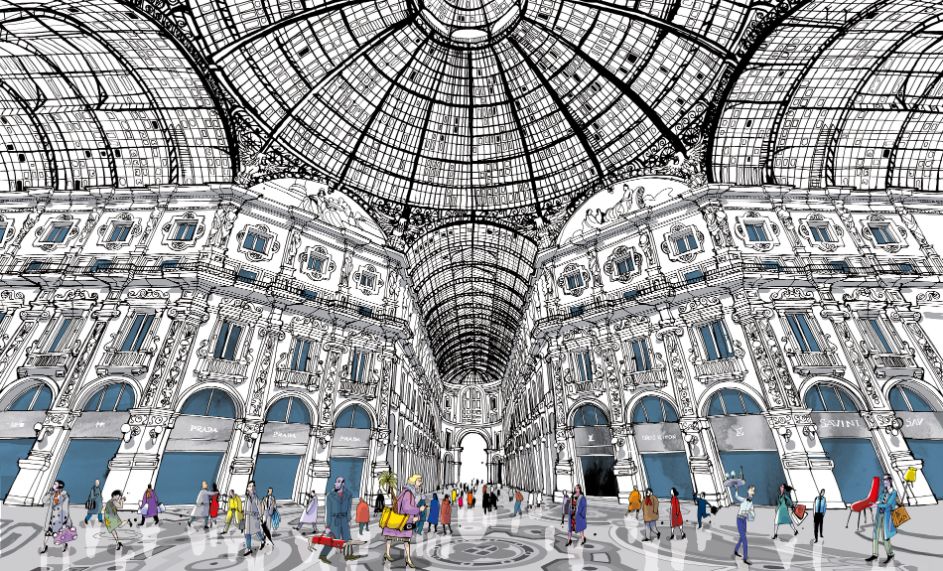 Author Alice Bignardi

Here it is, Milan designed by the distinct but delicate features of Carlo Stanga, who shows us all his details and the people who live there, without forgetting even a corner in "I am Milan, not one of the many books on Milan".
So, finally, we can study the high spires of the Duomo, and try to imagine them even under the perennial scaffolding of those who start to clean it on one side as soon as it has finished on the other. We will discover that that strange pink tower in the shape of a mushroom that rises among the buildings of the center, the Velasca Tower, was inspired by a very similar tower that is located near Sant'Ambrogio, the tower of Castello Cova, and will not seem so strange anymore.
Look up, see that uneven chessboard? They are the wires of the tram lines, which cut the space above our heads by dividing the air into sections that the sky enjoys filling.
Beautiful views from above that reveal the secrets of the buildings that show themselves only a little, because they are close among many others. You want to go in there, and you're be satisfied.
Design in Milan
What do you find in a real milanese house? The history of design in everyday objects. Have fun guessing the authors. From the Fornasetti's goods to the Tizio lamps, from the Giò Ponti furniture to the Crinoline armchair, from Munari to Gae Aulenti, you will recognize all the design objects, the books about Milan (that can't be missing!) and the most beautiful pieces of furniture ever, all created in Milan.
And then fashion. Fashion in Milan is lived in the streets. On the elegant sciure with fresh hair of hairdresser, on a model who rushes to get from one show to the other, in the shops made of sparkling lights, at the tables where you sip Franciacorta.
Would you like to know more? Read the texts in support of each image. Here's one:
I don't know exactly when I was born; maybe centuries ago, but I wear my years well, because my look is fashionable. In fact, I do it, fashion. And together with fashion I do architecture, design, art, cooking, fashion, finance, creativity and much more.

My name today is Milan and I, as a city, feel lucky.
And if even in this period it does not seem so, in Milan we have all found a piece of ourselves and we, as its citizens, are just as lucky as you.
Alice Bignardi