| Photo Gpiazzophotography
I meet Adam on a shooting day. I was immediately attracted by his creativity, so here's a little bit of his interesting life.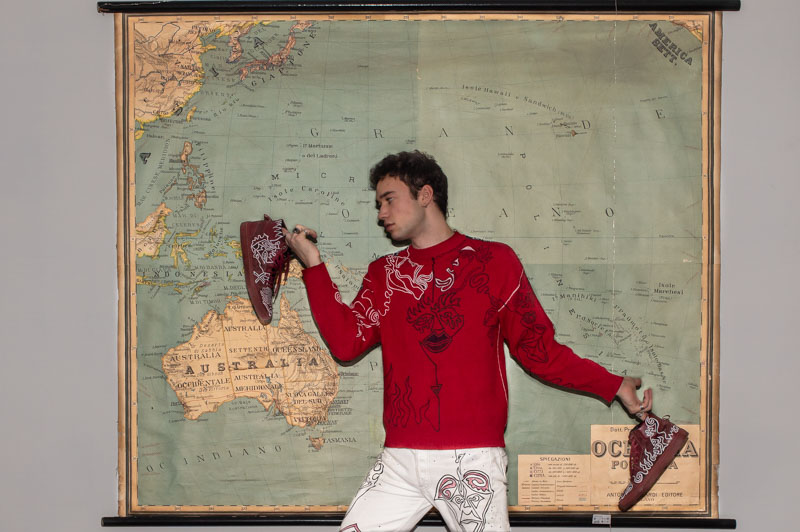 – Where did you grow up, and what was your relationship with the environmet like as a child?
I grew up in a small city called Helsingborg in Sweden. I was always outside doing street sports or practicing team sports. I did a lot of different sports actually and always got very intense in to what I was doing. It was all or nothing, until I would just get bored and changed direction fully. Something new. Always wanted to learn a new trick or build a jump for the BMX. I was immortal, in and out of the hospital but nothing serious ever happened. Except a worried mom who got used to it all pretty quickly. I've always had the freedom to follow my dreams, and develop myself. Mostly on my own with great support if needed. Always wanted to do things in my own. And I wanted to become the best in whatever I was doing. Now I just want to become the best that I can be, to be the person I'm here in this world to be.
– How and when did you decide to be an Artist? Why also model?
I've always had a lot of energies in my body, swinging me around from my insides that I need to do something. I need to express this energy and get it out. A suiting day about 3 years ago after I'd been traveling around in the world for about 7 months on my own, experiencing different lifestyles, cultures, love, friends, places and coming back to party with my friends in this little town I'm from. It became a mess. I had changed and the small intervention that was leading the day after I didn't care for. So I saw a canvas and decided to paint.
I put out all my emotions of the extreme love I was in, with frustration, anger, and sadness going on in my head. I had nothing to do in Sweden and needed to find a way out. Painting felt good so I spent all my days on it and only left space for the gym. It's all about expressing what's inside that can not be expressed with words. And the craziest thing is what it becomes. I always paint in full spontaneity. Only letting the moment create.
Modeling was picked up after I at last found out I wasn't immortal and my knee was broken apart from playing American football. I did 6 rehabs and spent 16 weeks on crutches in total. So after I left America from an exchange year I started modeling. And it's always given a lot of free time for me to put my energetic thoughts in motion.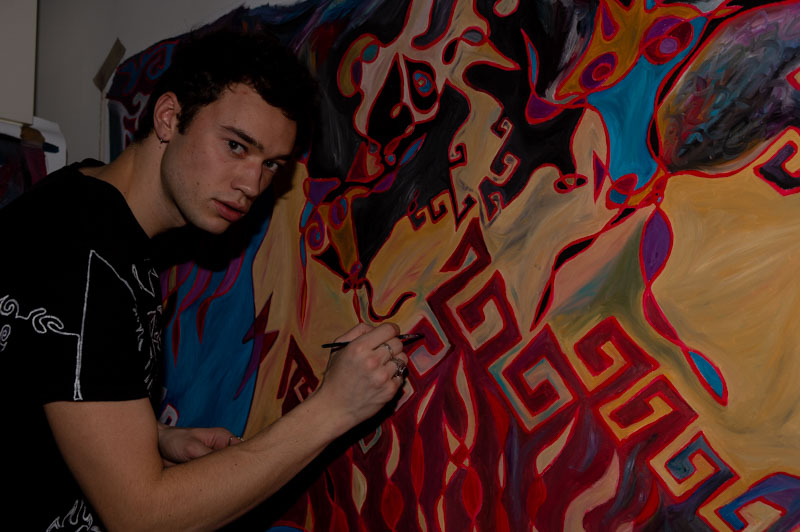 – If you could choose a fashion brand who work for, it would be?
Louis Vuitton. I want to paint on their expensive bags.
– About the passion to draw, have you always had it? Do you think that one day it can become your work?
I thought I was never good at drawing. My sister seemed to be the one good at that. It just came to me. When I started the line thing was when I moved to LA. I didn't have a canvas so I decided to paint a jacket instead. I just started making this line, it never touched itself and covered the hole back, becoming this face figure That looked cool so I just kept doing it. Painted on everything. And never the same, always new.
If it's meant to be my work it will be. I need to paint no matter what. After having my first exhibition last year which lead to another one and from the opportunities that brings from me wearing my painted clothes to jobs has opened some projects. And my line will spread more around the world soon.
[columns] [span6]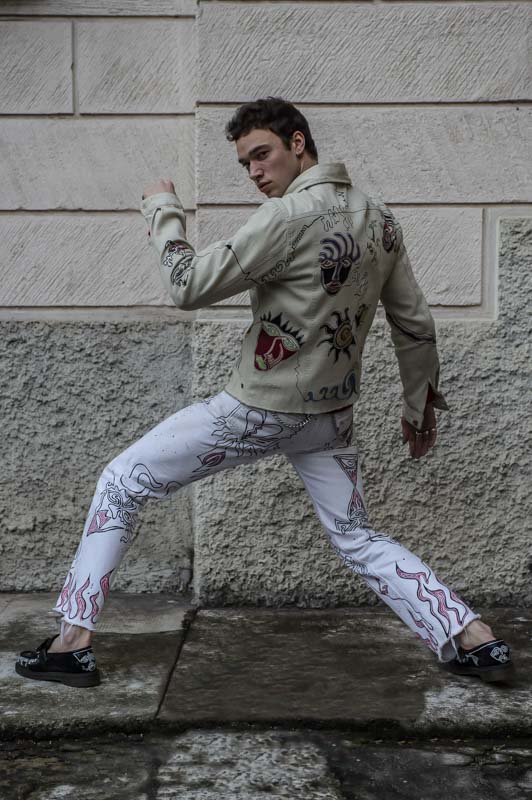 [/span6][span6]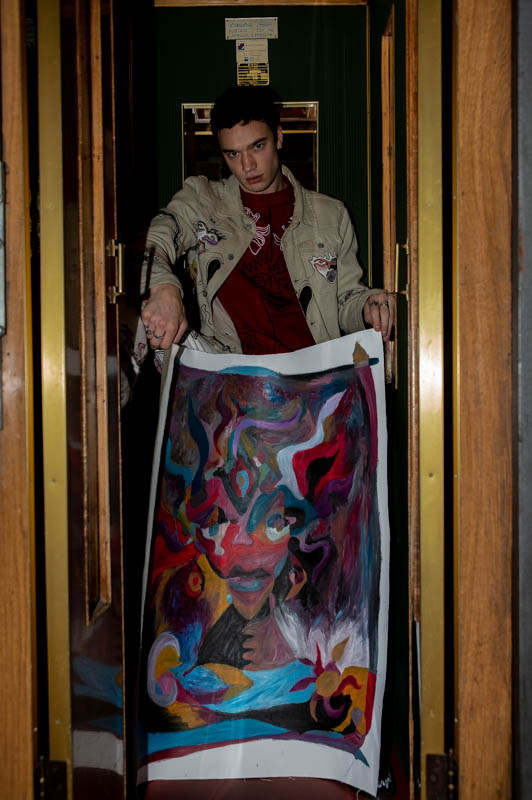 [/span6][/columns]
– Who's your greatest muse? And, what's happen when a muse is lost?
I believe love has been my greatest muse actually. I'm a romantic, and it doesn't always work out in ways. It's like playing a big risk for the big win. I'm very intense in my sense of being and thinking so the romance and frustration I can build up in my head is mostly what gets me the need to paint. My passion for life and excitement of what I can make of it and who I am becoming is often forming questions for me as I'm painting. It's meditative for me. Anger has also always worked for me as well with this as with sports.
If this would be lost another would be created. We always adapt. Sooner or later, but letting myself adapt to new will let me find a new muse quicker.
– Are you inspired mainly by the external world or more by what you see in your imagination?
What I see inside my head is not always making sense in a clarifying way. But seeing it, feeling it and following it makes sense. I don't know how I'm doing what I'm doing really. I just let go and let this line become whatever it will become. Choosing colors as I need to fill another spot. The spontaneous way is very creative for me. It's as if my inner me, memories and feelings created from the state I'm in, triggered by the music and surroundings put together becomes a new story on a canvas of a never seen place. The most question marks comes to me when I've finished a piece.
I think it makes a big difference to where in the world I am painting as well. Every city has a different lifestyle. And as I live day by day I'm never really following routines so I'm always letting things flow differently. And every new experience leads to a new emotion. I use my feelings to learn from the outer world to connect it to my inner and lots of creations are made.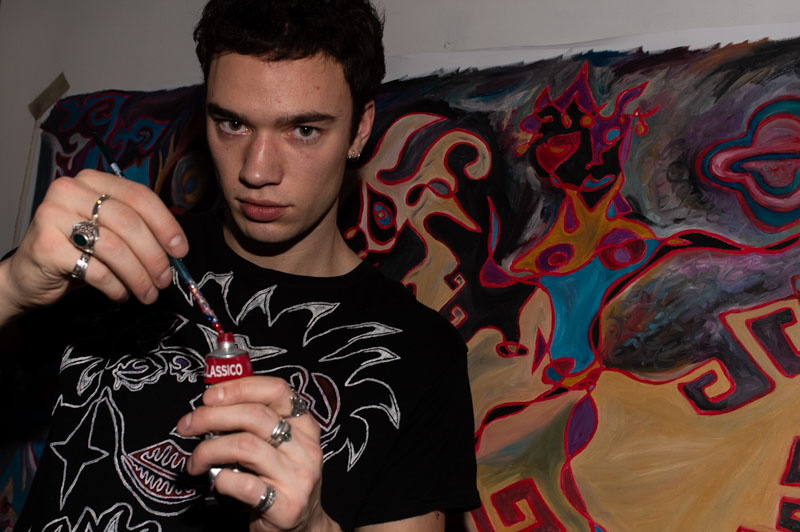 [/span6][span6]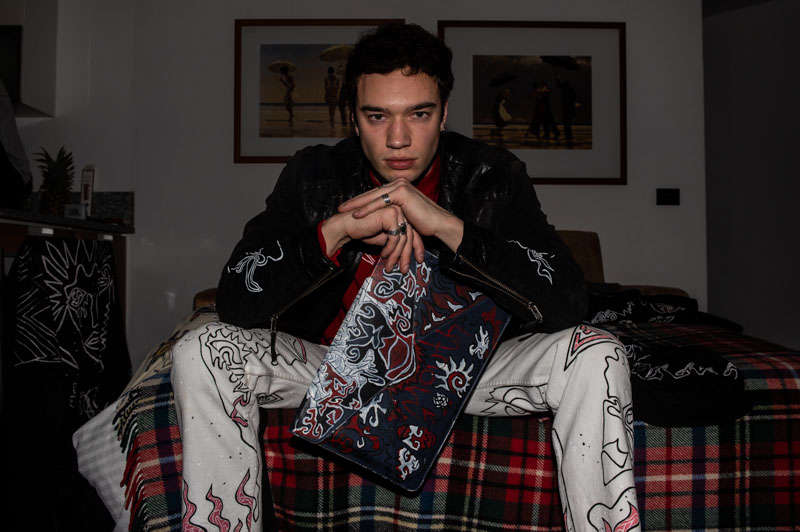 [/span6][/columns]
– How important is it for you, to share your artistic talent with other artists?
With other artists, haven't really thought about it. With the world, more important. Because the emotions I feel and how clarifying it can be to look at art for your inner self is something I care to share. Because it's not about what I see in my paintings. Art is all about you. What it is that triggers your imagination, memories, feelings with your past or current desires. What you see is for you, no one else. The fact that I have created it and it means something to me, and that it trigger someone else to feel because of it, is the best part of sharing my art.
– What's your philosophy?
My intuition. By following my instincts I will do what I'm here to do in this world. This way I will reach my purpose of this life. And when I do, I'm on to the next.
– Could you tell me the difference between "passion" and "obsession"?
Obsession doesn't necessarily mean that it's passionated. But a passion will most likely become obsessive.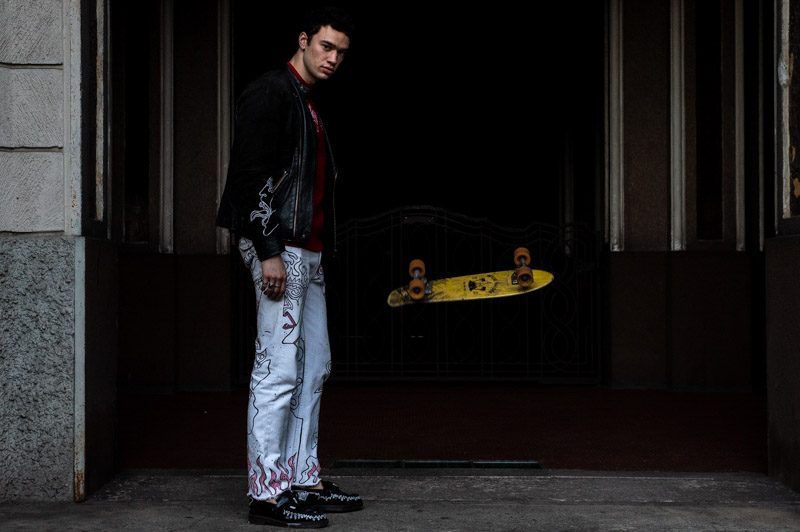 ©All Rights Reserved